Advanced AI image analysis for precision medicine
We believe that the gap between academic developments in medical image analysis and clinical usability needs to be bridged faster. By working together with innovative med-tech companies we have the power to create products that bring the latest science and technologies together and at the same time are intuitive for the user and aid medical specialists in their daily tasks.
Precise segmentation and robust quantifications
Our modular platform contains generalizable deep learning models developed for identifying and quantifying anatomical structures and disease-related abnormalities in a multitude of diseases. As a result, we have an outstanding capability to quickly set up optimal measurements to meet individual intervention or study requirements.
Advanced anatomical segmentation algorithms of the lungs, lobes, pulmonary (sub)segments, interlobar fissures, airways and anatomical branches, pulmonary arteries and pulmonary veins allow for very precise and detailed exploration of local lung pathologies for both common and rare pulmonary diseases such as COPD, Asthma, COVID-19, Cystic Fibrosis, Interstitial Lung Disease, Pulmonary Arterial Hypertension and more.
Thirona's artificial intelligence-based quantification software for chest CT scans provides:
Anatomical measures and biomarkers such as: volumes of each anatomical structure, parenchymal density evaluation, bronchial and vascular dimensions, airway-artery analysis, fissure completeness, artery-vein analysis, etc.
Disease-related severity and distribution assessment for: emphysema, air trapping, bronchial wall thickening, bronchial and vascular dropout, covid-19 infection, bronchiectasis, fibrosis, mucous impaction, atelectasis, CT-approximated perfusion and ventilation defects, pulmonary vascular enlargement, etc.
Outcomes precisely tailored to specific study requirements
Ensuring high reliability of trial outcomes starts with a thorough understanding of the project objectives and the quantitative measurements required.
With our extended domain expertise and proven track record in supporting imaging trials for medical innovations in interventional pulmonary care, we have the ability to effectively tailor the service to specific project needs.
We provide comprehensive clinical trial and research services, from study design and inclusion criteria to translation to clinical practice.
Understand the project goals, desired treatment outcomes & population requirements

Define the best-fit-for-purpose biomarker measurements

Set image acquisition protocol requirements for reproduceable results

Tailor the study to patient populations and conclude effective inclusion criteria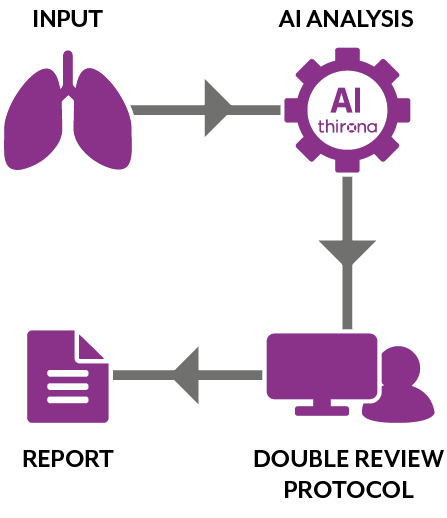 Supporting the full process towards optimal end results
The incoming images are automatically checked against quality protocols agreed upon with each customer. This is followed by visual quality checks conducted by trained analysts.

The medical data is automatically analyzed by Thirona's proprietary software, including image segmentation and biomarker quantification.

Using interactive algorithms, medical analysts double-check the results of the software. An ISO-13485 certified double review protocol is employed to ensure high-quality results, especially in case of rare pathologies and complex to quantify lesions.

A customized report, including 3D visualization is delivered back to the customer.

Our image analysis team is instantly available for additional support in interpretation of the results.
Certified for Europe and FDA 510(k) cleared software for chest CT image analysis
LungQ™ precisely detects emphysematous regions in the lungs, air trapping, airway morphology, and fissure completeness. It enables the interpretation of chest CT scans for early and fast diagnosis, selection of patients for treatment, treatment planning, and helping disease progression management. LungQ™ is used both in research trials and clinical settings.